First-of-its-kind mobile app for digital citizen engagement powered by Voyager Innovations
In time for its 347th founding anniversary, the City Government of Makati, under a proof-of-concept public-private partnership (PPP) proposal, today launched the MAKATIZEN app, a first-of-its-kind digital citizen app that brings various local government services closer to people. The app is a product of the groundbreaking collaboration between PPP proponent Neo-Converge ICT Solutions, Inc. and Voyager Innovations, which enables the digital transformation of the city.
Initially available for Android phones via Play Store, the MAKATIZEN app brings important information and civic services closer to Makati residents in a more engaging, rewarding, and convenient way through the help of their mobile phones, super-charged by Voyager's innovative digital platforms.
"This is an important day for Makati. As we celebrate our founding anniversary, we also look to the future as the city that sets the pace of the country–and that includes engaging our Makati City residents at the speed of digital through the MAKATIZEN app. We look forward to serving our constituents better and faster through this new platform that gives them the power to actively participate using their mobile phones," said Hon. Abigail Binay, City Mayor of Makati.
"This is a truly remarkable initiative by the Makati City government as it embarks on a digital transformation like no other. Local government units like Makati are fast opening doors for bringing wider access to the digital economy through digital inclusion efforts such as the MAKATIZEN app made better by Voyager's platforms," said Manuel V. Pangilinan, Chairman at PLDT, Smart, and Voyager.
"Digital extends access to the unserved and underserved, and levels the playing field for all. We're glad that Makati is embarking on this journey with the help of Voyager's platforms in building a truly inclusive government and a pioneering digital city that benefits all of its citizens," added Orlando B. Vea, President and CEO at Voyager Innovations.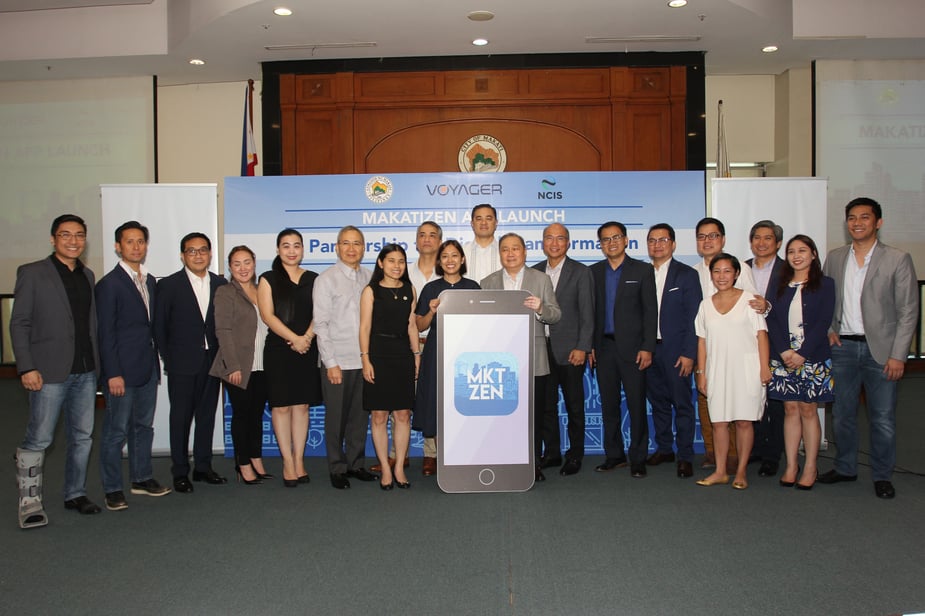 Super-charged digital platform
The MAKATIZEN app will initially feature the following benefits for Makati City residents:
"MakaGimik" - up-to-the-minute advisories and announcements about Makati City programs and events
"MakaRide" - instantly book a ride on board Makati's point-to-point shuttle service, initially available for Makati City government employees
"MakaShopping" - an in-app online marketplace where citizens can instantly shop for must-have items and receive exclusive discounts
"MakaNegosyo" - important information about how and why to invest and start a business in Makati City
Through Voyager's customer engagement platform freenet, Makati is super-charging its digital transformation efforts by allowing its residents to use the MAKATIZEN app without incurring any data charges.* This will help lower the barrier for citizen engagement and empower them to actively participate in the digital economy.
Makati residents can also have instant access to the MakaShopping online marketplace, powered by Voyager's e-Commerce platform, Takatack. Makati residents can get exclusive discounts and privileges on must-have items that they can order through their mobile phones and have them delivered straight to their doorsteps.
More innovative and citizen-enabling features will be in the MAKATIZEN app soon.
Empowering digital cities and beyond
Cities like Makati are now embarking on their digital transformation journeys with the help of Voyager's various platforms in the areas of digitally-powered financial services, payments, commerce, and customer engagement that build a robust digital ecosystem for the entire country.
These platforms are being adopted by large corporations, small and medium-sized businesses, non-government organizations, and individuals all around the country in their respective pursuits of digital transformation that makes for a more inclusive society in the wake of the growing digital economy worldwide.
These platforms are made even more accessible by the most extensive fixed-line and mobile network and services from PLDT and Smart Communications nationwide. For more information about Voyager and its breakthrough digital platforms, visit www.voyagerinnovation.com.